Trendi Switch
Stand: D174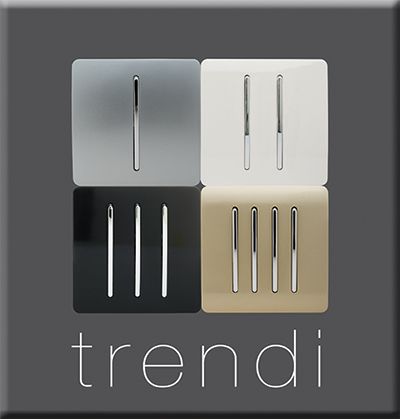 Trendi Switch are Defined by Design!
We're always looking to expand and improve our retro light switch range…
The complete 'Trendi' range of Electrical Light Switches, Plug Sockets, Dimmer Switches & Electrical Wiring Accessories has been received well by both public & trade alike and has been specified on a large range of projects, small to large; The Collective Old Oak Student accommodation in London, VIP Hotel Qatar and boutique hotels in Malta & Cyprus. We have also been featured on a BBC programme, 'Your Home Made Perfect' where Trendi Switch was specified and received some great exposure.
Here at TrendiSwitch we recognise the requirement for product development and whilst we are a new company, we are keen to develop our products whilst keeping the design lines, for example our interchangeable faceplates. We understand that fashions, tastes & minds change over time and so too can the colours of your electrical accessories to keep up with these changes.

To summarise, we believe that the light switch & plug socket are here to stay, regardless of electronic charging through the air ideas, the majority of appliances will still need to be plugged in and switched on for many years or decades to come. Therefore, our objective for the wiring accessories market is to bring a design led functional product to the worldwide market place that is similar in price to historical dated 'conventional' light switch and plug socket.
Once you have one Trendiswitch®, we're sure you will want them all!
Address
PO Box 890
RH19 9LX
United Kingdom